The USHLI will launch it 2020 Student Leadership Series (SLS) on Thursday, February 20, 2020, at their 38th National Conference. Denice Frohman, will address 3,000 students from the Midwest and set the tone for the conference's theme, "Vision 2020, Strength in Numbers"
Denice Frohman is a poet, performer, and educator from New York City. A CantoMundo Fellow, she has received fellowships and awards from the National Association of Latino Arts & Cultures, Leeway Foundation, Palm Beach Poetry Festival, Hispanic Choice Award, and is a former Women of the World Poetry Slam Champion.
Her work focuses on identity, lineage, subverting traditional notions of power, and celebrating the parts of ourselves deemed unworthy. She hopes to inspire people, particularly young queer people of color, to know that their stories are worth telling. A former Program Director at The Philly Youth Poetry Movement, she worked to create safe spaces for Philadelphia teens to discover the power of their voices. Her passion to mentor young people has always been a central part of her work.
The SLS serves as the cornerstone of USHLI's campaign to create a culture of education in which academic persistence will become a priority in every Latino household. The program focuses on motivating students to stay in school, improve their academic performance, graduate from college, and pursue and successfully complete some level of post-secondary education or training. Since 2011, the SLS has reached over 820,000 participants across 39 states and over 2,900 organizations.
USHLI will host the Student Leadership Series Launch at the Sheraton Grand Chicago Hotel from 8:30 AM to 1:00 PM. The registration fee is $2 per attendee, which includes lunch. Schools wanting to attend the event are expected to provide their own transportation. The event is open to all high school students (9th-12th) regardless of race or ethnicity and the dress code is business/ business casual. Registration for the event ends February 8, 2019. For more information, please contact Adrián Calderón at acalderon@ushli.org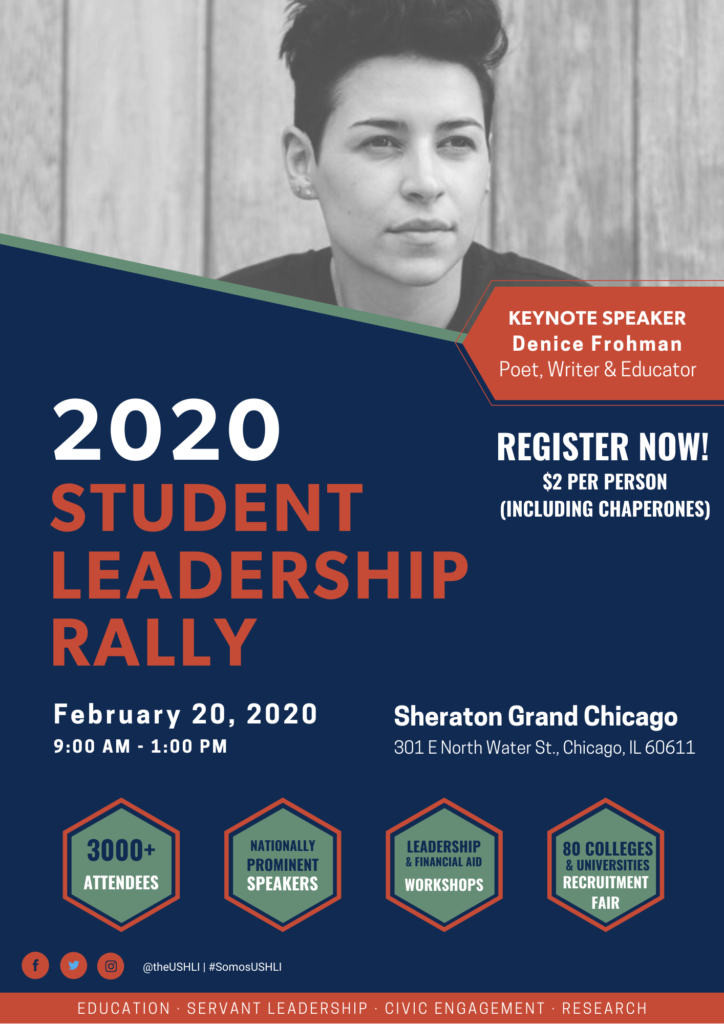 Frequently Asked Questions
Yes, please reach out to Jose Flores (jjflores@ushli.org) or Adrian Calderon (acalderon@ushli.org) with: a name, title, company/organization, address, and email.
Yes you may, but understand that our focus will be on the National Conference and thus it will take several business days to provide you with an invoice with the amount paid. Please make sure to bring an exact amount to the conference when paying with cash.