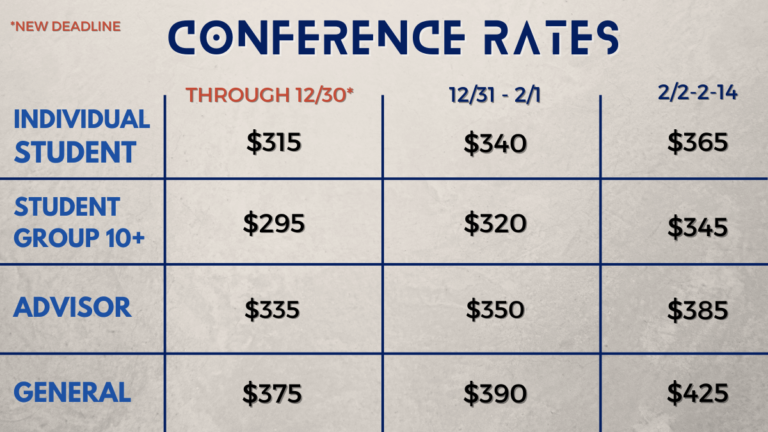 About the 2023 USHLI National Conference
We're back! The USHLI National Conference, rated the premier cross-generational leadership conference in the nation, will be presented in-person on February 16-19, 2023. After a grueling 2-year pandemic and virtual continuation, it's time to restore the power, the electrifying energy, vitality, and fiery spirit that characterized this awesome life-changing experience!
 USHLI has chosen "Acelerando el progreso latino/Accelerating Latino Progress" as our conference theme to place the strength and power of Latino resiliency at the center of our 2023 national conference. Despite the tragedy and hardship caused by the pandemic, Latinos have helped keep America alive, fed, viable, and thriving. As before the pandemic, the USHLI national conference will feature the most dynamic nationally prominent speakers in our community, interactive forums on culturally relevant topics, workshops on "how to" effectuate change, and have fun the way we know how!
Over the last 41 years, the USHLI Conference has become the premier Hispanic leadership conference in the nation, attracting a complete cross-section of our leadership community and involving all ancestry groups. Over 6,500 present and future leaders representing 40 states will attend.
A demographic survey conducted during our last in-person national conference (2020), found that 83% of our participants were between the ages of 18-34; 67% identified as female; and 78% were students ranging from high school to college graduates and post-graduates (6.5%). Participants will also include young professionals, elected and appointed officials, and business, labor, and community leaders. In short, participants will comprise an impressive cross section of America's $2.7 trillion GDP. 
Most conference participants are or will become the most influential Hispanic leaders of their generation and will help govern our cities, schools, states and, indeed, a nation that will become over 30% Hispanic during their lifetime. 
Our program will focus on the state of Latino education, celebrating Latino culture, Latina empowerment, Latino socioeconomic advancement, Afro-Latino power & influence, the 2022 Latino vote, making DE&I work for everyone, immigration reform, and honoring courageous and dedicated men and women who are trailblazers, humanitarians, and lifelong servants to the empowerment of the Latino community.
Our National Conference provides an extraordinary opportunity for students and young professionals to interact with recruiters, national policy-makers, and future employers. Participants will hear nationally prominent, standing-ovation quality speakers and expert presenters in highly interactive workshops and forums.
Sponsorship Opportunities
Frequently Asked Questions
Agenda will be provided soon!
Only college students are required to upload their resume.  If you do not upload a resume on our online registration from by February 14, 2023, you will be asked to upload a copy when you check-in to the conference. Be sure to have a printed copy available during the conference.
How to upload your resume through group registration:
2. Enter their email
3. Confirmation number they received at the time of registration
4. Then go to the MODIFY tab, click "Next"at the bottom of their Personal Information page.
5. Select "Add File" to upload their resume and click next until you find the FINISH button.
**** If you had selected a check or purchase order as a payment method at the time you registered, they have to select it again before they click the finish button. If you wish to pay with a credit card instead, you can do so in here as well.