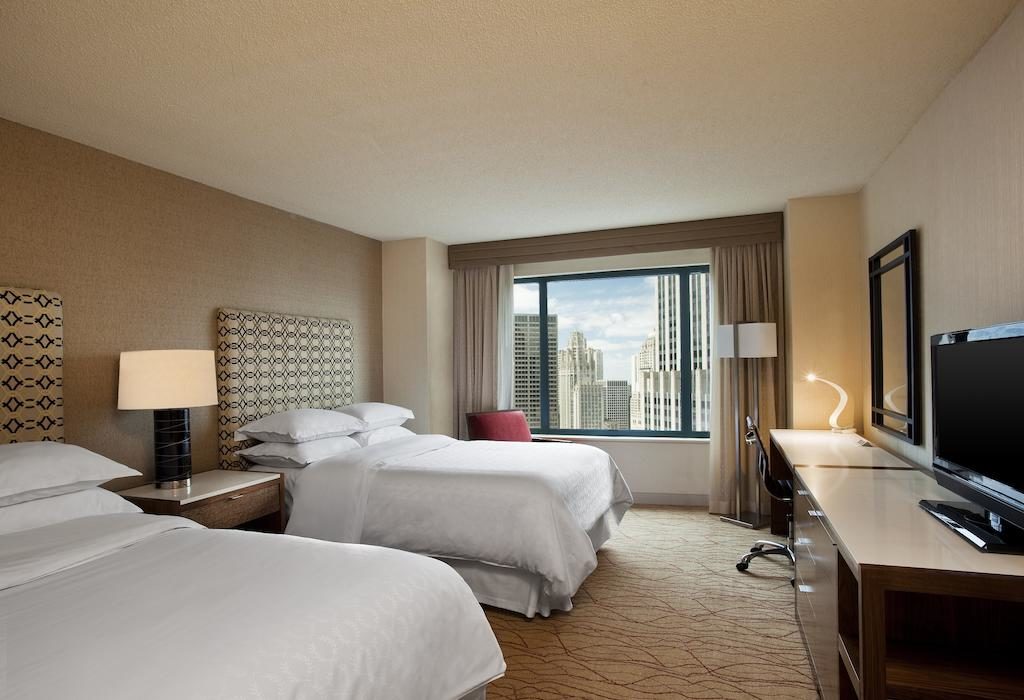 Student Room Rate: $139.00 + 17.4% tax per night 
 Use Access Code- HLT2023
Non-Student Room Rate: $159.00 + 17.4% tax per night
Use Access Code- HLN2023
USHLI is asking all attendees to make their lodging arrangements at the Sheraton Grand Chicago Hotel on the Riverwalk ASAP. Rooms have been contracted at the lowest price for lodging available downtown, which will ensure the most secure accommodations for our participants. Our program runs late into the night and starts early the next morning, so we want your accommodations to be the safest and most logically practical for your group. We look forward to having you and your group with us. Safe travels
If booking multiple rooms, we suggest that you email your rooming list to Michelline Roxas, Michelline.Roxas@marriott.com and cc Tammy Deavours, tdeavours@ushli.org to avoid any difficulties in securing your room block and to set up a payment plan prior to your arrival to the hotel.
You should list your rooming information as follows:
Room Number (1)
Room Type: Student or Non-Student
Bed Type: Two Doubles or One King
Name of Each Guest Sharing the Room 
As a follow-up to your email, please call and leave a voicemail for Michelline at 312- 329-7183. You should expect a return call within 24-hours.
The cut-off date for reserving rooms is Tuesday, January 31, 2023, at 5:00 pm (CST).  After the cut-off date, it is at the hotel's discretion whether to accept additional reservations, which will be subject to prevailing rates and availability.
 Rates will be available 3 days prior and 3 days after the event dates in the room block, subject to availability of guest rooms at the time of reservations.
Please refer to hotel reservation for more information, amenities, and fees.
For the USHLI Conference, we recommend that you use the SpotHero app to find parking in Chicago. SpotHero is a parking reservation service that connects drivers looking to reserve and prepay for parking spaces with parking lots, parking garages and valet services. The service, which operates a mobile app and website, is available in 50 cities in the United States and Canada.
Hotel Parking (mention USHLI Conference)
$32.00 parking rate per day in the valet lot for overnight guests
$23.00 parking rate per day in the valet lot for guests not staying overnight
Enter this location at LOWER 301 E North Water St. This is the garage for the Sheraton Chicago Hotel & Towers. This is a LAZ Parking garage located near Navy Pier on the southwest corner of New St. and E North Water St. Look for the white and blue banner with red arrows that say "Hotel & Public Parking" From the intersection of E. Illinois St. and McClurg Ct. OR the intersection of E. Grand Ave. and McClurg Ct., take McClurg Ct. south and make a right (turn west) on E. North Water Street. Follow E. North Street past New St. and into "the tunnel," you will find the garage entrance on your left (south side), about 1/2 block past the tunnel entrance. **HERO TIP: For Mobile App users, there is a notated map with directions in the pictures for this location.**
Things You Should Know
Height Restriction: 6′ 6″

This facility does NOT allow in/out privileges. You CANNOT enter & exit more than once.

The garage door will open when you pull up to it. If the garage door is partially closed when you arrive, press the assistance button and the valet will open the door for you. This is NOT the 300 North Water Ogden Plaza garage – we are not held responsible for parking in wrong locations.

There is an attendant on duty 24/7. Depending on parking occupancy, this facility may become a valet and you may be asked to leave your keys with the attendant.

**GPS Warning** – The entry to this facility is on LOWER E. North Water St., GPS is unreliable on lower levels, please consult "Getting There" directions and pictures on parking pass for guidance. Call SpotHero customer support at 312-566-7768 with any questions.